A Walk Down Tin Pan Alley With Harry Warren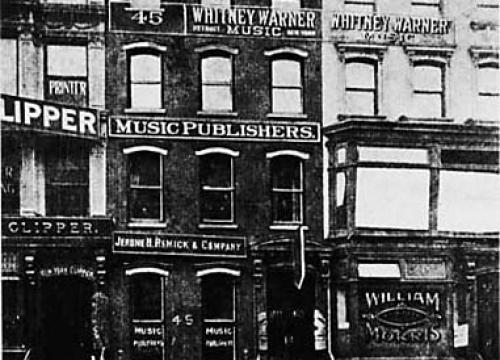 When Western music culture romanticizes about its institutions, we only tend to go as far back as the current oldest living memories. Right about now, that's the Brill Building era. The memory of '50s music history is fading into history pages as all the people who were teenagers when those first records came out pass the torch to the new generation.
A generation of music that is now pretty much lost to all but music scholars is the Tin Pan Alley era. This was the Hit Parade (it's what Carroll O'Connor and Jean Stapleton name-check in the opening theme to the 1970s TV series All In The Family) of the 1930s and 1940s; it's the music that brought America out of the depression and kept it company through World War II. And one composer stands out in this history - Harry Warren.
The statistics: He lived from 1893 to 1981. 800 songs written and published, many of them featured in over 300 films in his career. His songs also found their way into 42 Warner Brothers' Loony Tunes cartoons, which is how most generations will recognize those songs today. He had 21 #1 hits on Your Hit Parade.
You can take any one song by Harry Warren and trace its history, and it will chronicle a chuck of show-business history along the way. Take "You'll Never Know", written by Warren and lyricist Mack Gordon, which was first featured in the film 1943 film Hello, Frisco, Hello sung by Alice Faye; it became one of her signature songs. It also won a 1943 Academy Award for Best Original Song. It was covered by Frank Sinatra and Dick Haymes. Vera Lynn covered it in Great Britain. Then it became Barbra Streisand's first recorded song. Rosemary Clooney covered it in 1952, which prompted Bette Midler to perform it for Bette Midler Sings the Rosemary Clooney Songbook. Then it got onto an album by The Mamas & the Papas vocalist Denny Doherty. Also, Doris Day recorded it for her Hooray for Hollywood album in 1958.
And finally, it was used in the 1974 Martin Scorsese film Alice Doesn't Live Here Anymore. The song tells part of the story: we see the title character as a little girl in a tinted-black-and-white classic setting strolling down a country road listening to the Alice Faye version, then she starts singing along with it. We've been set up so far with the title credits to expect a gauzy 1950s romantic movie. When she takes off running home, the last word of the song echoes and reverberates ("now... now... now...") as the scene shifts to the modern day and the 1970s rock played by the pre-teen son of Alice, now a grown, harried suburban housewife about to have her life shattered in what becomes a very gritty story. It's a brilliant way to show the contrast between the early and late 20th century, and the starry-eyed dreams of a little girl blown apart by the realities of adulthood.
You now know something about one song by Harry Warren.
That's 1 down, 799 to go. Each of them has a story every bit as fascinating.
Warren also wrote the music for Busby Berkeley's 42nd Street. You'll probably at least know a few of Warren's hits: "Chattanooga Choo Choo", "That's Amore", "Jeepers Creepers", "You Must Have Been a Beautiful Baby", "I Only Have Eyes for You". We could go on all day. But we don't want to cheat you out of the fun of exploring it for yourself, if you care to.