The True Meanings Behind Seven Leiber and Stoller Songs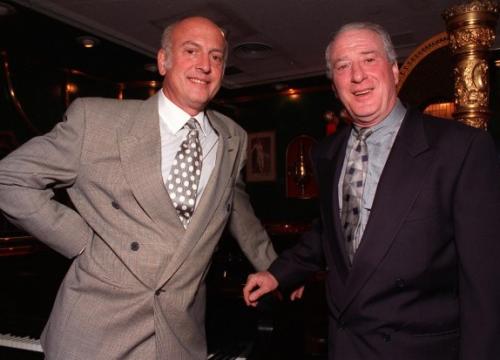 Jerry Leiber and Mike Stoller are two of the greatest living legends in classic rock. Working for Spark Records, Atlantic Records, Bang Records, and briefly Red Bird Records, their influence is still felt today with the string of pop hits they wrote and produced for everybody from Elvis to Peggy Lee throughout the '50s, '60s, and '70s. And they practically defined what we now call the "Brill Building Sound", even though they only briefly worked in the New York Brill Building itself.
"Hound Dog"
So famous, they named their autobiography after it! Of course, you're aware that Leiber and Stoller wrote this for blues-singer legend Big Mama Thornton, three years before Elvis covered it. But you don't know that it was originally written from the perspective of a woman shaming her delinquent lover, a freeloading gigolo who's a sly, sneaking dog of a man who only comes around when he wants something from her. "You can wag your tail, but I ain't gonna feed you no more." Seek out the original Big Mama recording - the slower, more sinister beat changes the intent entirely.
"Smokey Joe's Cafe"
One of Leiber and Stoller's first hits for the Robins / Coasters. It tells a pretty straightforward story, but you may not know that it was inspired by a real location - Beverly Boulevard and La Cienega, in Los Angeles, California, where there was an oil well smack on the corner and a beanery right next to it. The juxtaposition of a greasy-spoon diner and a big, dirty oil well was perfect for a hard-luck blues story.
"Down in Mexico"
A bigger hit for the Coasters, revived to new fame in Quentin Tarantino's Death Proof. Mike Stoller brought a Mexican feel to the song which he'd picked up in Chicago barrios, while Jerry Leiber dipped in his fascination with funky bars and sexy stories.
"Searchin'"
Jerry Leiber had just gone through a messy separation with his own partner in life. And into a song it went!
"Jailhouse Rock"
This well-known Elvis hit was custom-ordered by The King himself, who was a big Leiber and Stoller fan. But on assignment in New York, small-town boys lost in the Big Apple for the first time, the songwriting team got a little sidetracked. So their manager showed up at their hotel room, slid a couch in front of their door so they couldn't leave, and laid down on it to take a nap, telling them that he expected a song written when he awoke! So the captive songwriters wrote "Jailhouse Rock", about singing captives. How's that for subtext?
"Yackety Yak"
Another Coasters hit, this one spontaneously evolved when Stoller was noodling around on the piano while Leiber was cooking in the kitchen. Leiber called out "Take out the papers and the trash!" and Stoller shot back the next line, happening to go right along with the piano piece he was playing. Jeez, couldn't it be that easy for the rest of us?
"Charlie Brown"
They've just about given up on insisting this, but in fact there is supposed to be no connection between this song and the round-headed character from the Peanuts comic strip. That leaves generations of kids have grown up thinking that it was about the Peanuts Charlie Brown (who'd appeared in the comic strip a good nine years before this song), but nope, Leiber and Stoller swear it was just a catchy name they happened upon.