Travis Scott : Rapper, Cannabis Entrepreneur, Filmmaker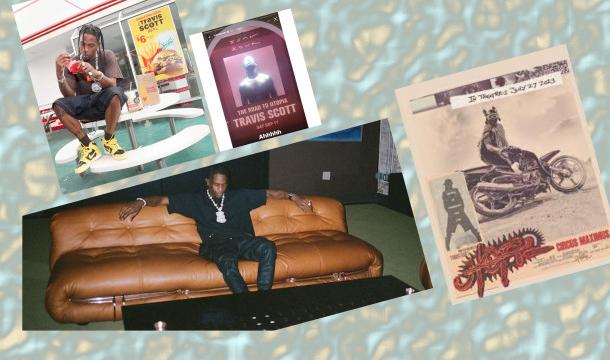 I hope all you beautiful cosmic blueberries aboard Spaceship Earth and hanging in there! And as always, I beg the readers' enduring patience; my schedule with this blog has been sporadic. On the bonus side, I have the best excuse for random post dates here, because my energy is spread across multiple freelancin' gigs. Like, there's more that I don't talk about – (tax law, video game guides, programming languages, kitchen gadgets …).
But what I love is when three of my gigs crossover at the same time. Since two of those currently involve media and pop culture (music and film), some crossover is inevitable – such as what happened this last week with Anders Runestad, who also turned out to be a music blogger in addition to penning the definitive (and award-nominated, I might add) story of the making of Robot Monster (1953).
Well, that week's podcast brought up a different name from the music world…
Travis Scott AKA Cactus Jack
Travis Scott is a Houston rapper and producer who has led a mostly conventional career. Even though he is counted out of the East Coast / West Coast axis, he's managed to garner a stack of awards, dated Kylie Jenner, and fired off his own cannabis label because of course all musicians have to do this now. So there's the cross-over with my cannabis industry gig. Keep score!
Not coincidentally, he's also had a McDonald's Happy Meal themed after him. Scott's cannabis label, like most musician-affiliated brands, is a white-label job through Connected Cannabis, which will be producing "Cactus Farms," a name obviously taken from Scott's early stage name. But like I say, every hip-hop artist apparently needs their own cannabis label or they won't let you sit at the big kids' table for the Grammys or something.
Travis Scott's Circus Maximus
So this is how Travis Scott's name comes up on the Pod 366 podcast, and now here's my gig at 366WeirdMovies crossing over too. The above clip starts at the time stamp where we mention everything we know about Scott.
Deets are sketchy, but Variety tells us everything they can dig up about this "mysterious" film as they're calling it. First let me clear up some confusion: Scott, no stranger to cinematic arts, has two film projects going on this year. One is done in partnership with A24 films, but it's not the film we're talking about today. The film we're discussing and Variety has reported is Circus Maximus, which Scott directed himself and is the "mysterious" subject of speculation. Variety gets the two mixed up and says A24 is producing Circus Maximus, but they're not on that project.
Let me clear up that mystery for you right now: It's a promo film for his new album Utopia, as Scott himself has stated.
The real big deal is the directing talent he's lined up for the film, which is what put it on the radar for 366 Weird. The line-up would be ambitious for a Hollywood blockbuster, let alone a musician's album project.
* Gaspar Noe – Multiple films on the candidates for The List apocrypha
* Valdimar Jóhannson – Has worked on Game of Thrones among other series
* Nicolas Windin Refn – Director of The Neon Demon (2016)
* Harmony Korine – Director of – are you sitting down? - Gummo (1997)
* Kahlil Joseph – Mostly directed music videos so far
Furthermore, it's not just a straight album film, but more of an autobiographic check-in to answer the question "Where is Travis Scott's head lately?" Scott has gone out of his way to find some of the quirkiest artists on the festival circuit, so we have a feeling this film has to have an interesting frame or two.
Travis Scott stays busy
So far, Scott has launched the Astroworld Festival, the Cactus Jack record label, collaborations with the likes of Nike and Dior, the above-mentioned McDonald's partnership, and found the time to stick his face in the camera a few times. So we're going to be watching with interest to see where this career goes next, because being a rapper from Houston tends to mark one with a destiny to shatter expectations.