Discovering Beat-Club | Vintage West German Music Show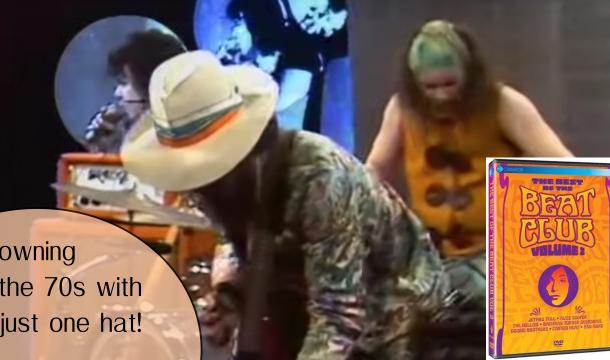 The first rule of Beat-Club is that you have to seek out Beat-Club. The show only ran for 7 years, 1965 to 1972, and only in West Germany (which itself was only so-called until the Berlin Wall came down). Yet for such an obscure cultural niche in history, it attracted some top-name talent of its day including many legends that we recognize now. You have to find this information out through occult channels.
That's when you go exploring and discover that some obscure media saint has uploaded what appears to be the complete archive of the show. These are one-of-a-kind videos of superstar acts, many of which have never been seen by Western audiences. Like sure, you're heard of American Bandstand, Soul Train, and Top of the Pops, but who's heard of Beat-Club before this?
That's when you unearth such treasures as:
Captain Beefheart & His Magic Band - I'm Gonna Booglarize You, Baby (1972)
So if you've encountered Captain Beefheart before only via us artisan music bloggers who do, indeed, gush about Trout Mask Replica, you might be tempted to think that CB and the Magic Band were too avant-garde to simply rock out. Let the above video reassure you, Beefheart was more than capable of making danceable, mainstream popular music. He just didn't always want to.
Ike & Tina Turner - Respect (1971)
RIP Tina Turner! While the loss of her stellar and legendary talent came as a shock to the music world this last May 2023, I passed on blogging her career because I'm just burnt out writing obituaries all the time. But anyway, here's Tina Turner in 1971 plowing through "Respect." She appeared on the show other times for "Proud Mary" and "River Deep, Mountain Wide."
Deep Purple - Highway Star (1972)
Early, vintage Deep Purple in live stage performances aren't something you come by every day. You can see that Deep Purple, in its earliest roots, was more of a psychedelic / acid-rock / space-rock band before becoming a heavy metal band. Of course you knew that. You're also aware that this is the Mark II line-up of DP: Ritchie Blackmore, Ian Paice, Jon Lord, Roger Glover, and Ian Gillan. What's left for me to tell you about DP you don't know already?
MC5 - Kick Out The Jams (1972)
Surprising how little I've blogged about MC5, considering how much I'm usually fascinated by seminal pioneers. The Detroit quintet play here their signature tune "Kick Out the Jams" and demonstrate the rare arched-back guitar-solo pose. Of course the band would be better known today had not two of the original members - Rob Tyner and Fred Smith – both died of heart attacks in the early '90s, both at the age of 46. Stressful life?
Much more in the Beat-Club archives to explore!
The Beat-Club YouTube channel sports still more performances from Jimi Hendrix, The Who, Grateful Dead, Led Zeppelin, Muddy Waters, Canned Heat, Jethro Tull, and the list just goes on forever. They must have had a heck of a booking agent! All the videos are beautifully preserved in quality, a rare bit of luck in the historic media archive business.
Beat-Club continues, in some form, today as an afternoon radio program on Radio Bremen 1. Original show host Uschi Nerke, despite having a prolific TV presenter career since, has even returned to host the show's continuation. We have this only as a relic of a time when TV series were the best place to discover new music for a whole generation.