Apache - The Shadows | A Surf-Rock Safari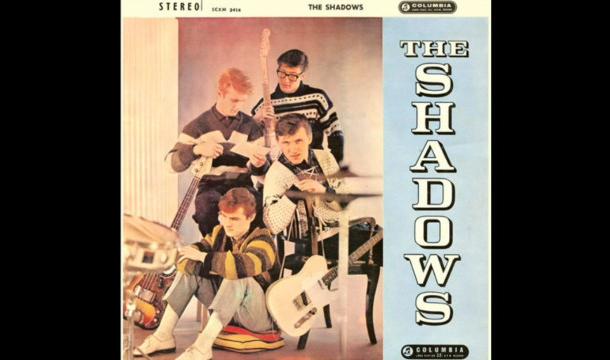 Greetings, cosmic blueberries in all your twinkling merriment! We're back with an instrumental jam called "Apache," by the rockabilly surf band The Shadows. This song never charted in the US, so don't look for it on the Billboard Hot 100. It did chart #1 in the UK (The Shadows' home turf) and world-wide, but you actually know it from the uncountable thousands of covers and samples of this song over the years. Take it away, boys!
Who can miss that earworm of a strumming spaghetti-western guitar trio? The Shadows, US charts be damned, still became popular in the US in the early 1960s, with this and other hit singles of theirs forming many a soundtrack for film, TV, and commercials. Most notably, they served as back-up band to singer Cliff Richard, a UK superstar in his own right.
Getting back to "Apache," this is a song equally at home surfing off Huntington Beach or gunning down bank robbers in the wild west. It was originally written by Jerry Lordan and recorded by Shadows member Bert Weedon, who first introduced it on a ukulele. But the Shadows proper were the first release. And then the cover versions took it to new galaxies.
Apache Disco
The song seemed to enjoy its first peak revival in the mid-1970s. It soon strayed away from its surf-rock roots into disco, of all things. Take 1975's space-age synthesizer cover by Electric Playground:
But before we move along, we have the Mod Squad sounds of the Incredible Bongo Band, with their 1973 release. This version is important, because it was sampled numerous times by other bands. These include C+C Music Factory, Sir Mix-A-Lot in his song "Jump On It," Beastie Boys, Madonna sampling the bongo beat for her song "Into the Groove," and Rage Against the Machine in their cover of "Renegades of Funk." Whew!
Here's a funked-up version courtesy of the Rockets, a French pop-disco-electric band in 1976.
But presentation-wise, nothing tops the frisky fringed leather of Denmark-born Tommy Seebach, with this tripped-out hippie-Western version in 1977. Just look at him in his Doug Henning mustache - he seems to be having a jolly time.
Novelty Versions of Apache
Wrap your synapses around the zapped-up 1972 take of "Apache" by Hot Butter.
Here is none other than Black Sabbath doing their instrumental best with "Apache," live onstage in 1989 at a Russian concert. This is of course well outside Sabbath's regular genres, but it made for a charming concert break, presumably while Ozzy goes backstage for a break.
Oh, but you haven't heard the ska version! The Ska-Dows, another UK band, recorded here coyly teasing a live audience "we ain't gonna play it," before they do indeed just that. And then perform it like the trumpeting kings they are.
Other Charting Apache Covers
The first break-out of "Apache" on the United States' Billboard Hot 100 was by Danish guitarist Jørgen Ingmann, releasing his version in 1960. Very faithful to the original, this version climbed all the way to #2 on the Billboard, just behind the Marcels' hit "Blue Moon."
Moving on to 1980, the Sugarhill Gang managed to take "Apache" to No. 53 on the Billboard Hot 100, No. 51 on the US Dance chart, and No. 13 on the US R&B chart. They accomplished this by adding a novelty to the song never before attempted: Actual VOCALS!
How Did Apache Get To Be A Standard?
It's just one of those efficient guitar pieces, with a rock-solid chorus that's unmistakable. The initial song composer, Jerry Lordan, was a Brit who never set foot in US native lands, but was inspired by the film of the same name - Apache (1954). Lordan singles out Burt Lancaster's turn as Massai. It's very much the horse opera it sounds like, but US western film culture was almost omnipresent throughout the 1950s and 1960s, while Europe looked on from afar.