Six Degrees of Blondie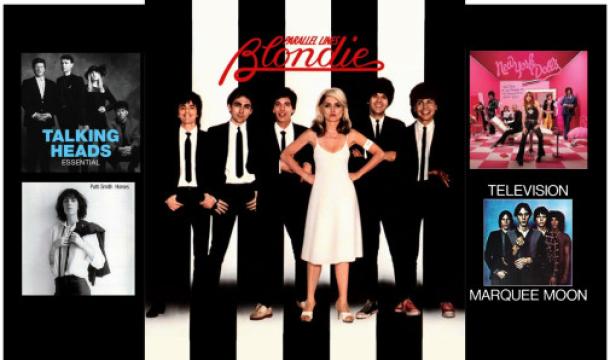 Last time on Penguin Pete's music history rabbit-hole, we examined the 1980s UK wave of New Wave music, starting from its Brit-punk roots, and connecting it all through Adam and the Ants. This time, we're doing the same thing, but with the other half of the New Wave genre starting from its New York roots, centering on a unique little band we call Blondie.
Ah, Blondie! I don't cop to misty-eyed nostalgia very often, but seeing Debbie Harry's face and hearing her voice for the first time about the late-'70s, of course I swooned. We all did. Blondie came out of the end of the disco era, and promptly steered pop music in a bold new direction. New Wave had three main components – post-punk music styles, fusion with other pop genres, and romanticism. The UK brought the romanticism and their brand of punk to the table. New York brought the arty, experimental side to New Wave, and the fusion of the two produced the distinctive style that made many of these bands still popular today.
The Formation of Blondie
Once upon a time, there was "Wind in the Willows," a band named after the British children's book of the same name and also the source novel for the Disney animation that would lend itself to Disneyland's most popular dark ride, Mr. Toad's Wild Ride. Debbie Harry started out as a backup singer in Wind in the Willows, a folk band that produced one eponymous album and fizzled. The other band to know is the Magic Tramps, with Chris Stein on guitar. Chris Stein would go on to date Harry for a while before breaking off in the late 1980s.
Harry and Stein left their respective bands and formed Edna and the Stilettos, a band I can scarcely prove exists. But hey, there's a song, hopefully correctly attributed because there was another New York punk band called "Stilettos" which I keep running into.
As you can hear from this song, this band was not the right fit for Harry. Edna and the Stilettos was trying to be Riot-GRRL crossed with a camp-retro edge that both Talking Heads and B-52s would carry out with far more success. But adhering to true punk style would waste Harry's golden voice, so Harry and Stein teamed with Billy O'Conner on drums and bassist Fred Smith to form the first line-up of Blondie in 1974.
Fred Smith would stick it out in Blondie until the summer of 1975 and then…
Fred Smith Left Blondie For Television
Here's where Blondie hooks into the New York post-punk / New Wave network. This microcosm centered on some legendary influences – Andy Warhol and the Velvet Underground, the infamous CBGB nightclub, and another nightclub called Max's Kansas City. Pretty much all of our cast today orbited one or the other, sometimes all three.
But I mentioned Velvet Underground there, and yet they were already passing the torch to a new successor. New York Dolls came onto the scene in the early 1970s and briefly because the Big Apple's mascot punk band.
Even though they sound surprisingly tame for having that honor. Despite how much of a cult following they have now, New York Dolls only hung in there for a couple albums and then hung it up in the late 1970s, only reforming by the 21st century. Meanwhile two New York Dolls members – drummer Jerry Nolan and lead guitar Johnny Thunders – teamed up with bassist Richard Hell from… Television! Yes, that's where we were going with this. Those three formed the band Heartbreakers – no relation to Tom Petty's band.
The Heartbreakers was almost a supergroup. Blondie's drummer Clem Burke compared them to the punk rock Beatles, because each one stood out. And like all supergroups, it was unstable from so much talent clashing on one stage, so Richard Hell left for his own solo gig. Meanwhile, Television filled the slot in their line-up with bassist Fred Smith, who had been with Harry ever since the Stilettos!
So that's New York Dolls and Television providing one link between Blondie and the rest of the new York punk scene. But we have much more to add to this rock 'n' roll family tree.
Guitarist Ivan Kral Left Blondie To Play With Patti Smith
You know we can't get very far in New York punk culture without mentioning Patti Smith. In the mid-70s, Smith's line-up absorbed the former Blondie guitarist. The most notable connection here, however, is that drummer Andy Paley left Elliot Murphy's band soon after to also join Patti Smith's act.
What's so significant about the Elliot Murphy band? Well, when that band split up, keyboardist Jerry Harrison left to join… Talking Heads! So yes, after David Byrne had been kicking around the New York '70s scene with the bands Bazadi and The Artistics, Talking Heads began to form in 1974. We're right back to the CBGB club again, where Talking Heads first took the stage opening for the Ramones – another staple of New York punk which ties into the whole thread about because drummer Marc Bell left Richard Hell (hay it rhymes!) for Ramones.
And That's the Whole Story of New Wave
Between the UK and New York factions, we've managed to cover the most influential bands in the new wave scene, and quite a lot of its punk origins as well. Thanks as always for joining me on my rock history safaris!