Six Degrees of: Adam and the Ants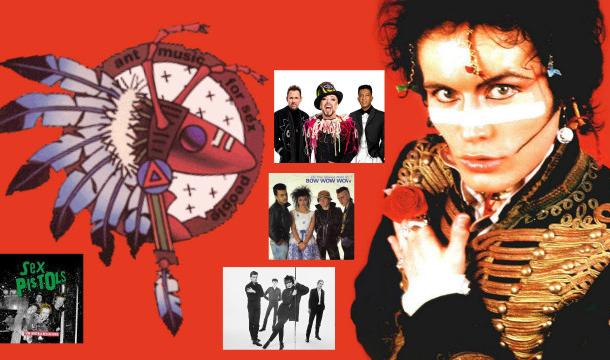 I've been meaning to play a new game here in the hallowed halls of Lyric Interpretations. You're all familiar with the culture game "six degrees of Kevin Bacon," where you movie-hop connecting actors' careers until you marvel at the interwoven connectedness of it all. Here we're playing something similar, but with band line-ups and musicians instead of movies and cast members.
What's so interesting about this? Frequently bands pick up influences and members from each other. If you get enough of an inter-connected "family tree" of bands, so to speak, you usually end up mapping a whole genre, or at least a chunk of one. Picture the inbred spiderweb you'd trace from the first heavy metal wave, for instance.
Who's Connected to Adam and the Ants?
Today's starting dart landed on new wave wonders Adam and the Ants, and yes, that's how I pick topics for this blog. I have a fond Generation-Xer's affection for the mightiest Ant of them all; first encountered at a flea market when I was an idle (and broke) crustie in the 80s. I was pawing through a selection of velcro wallets with bands and celebs stitched in – lovingly crafted from stencils by cheap sweatshop labor, no doubt – and there was an Adam and the Ants wallet. Mark my words*, we'll circle back to the wallet bin. (I can see these things because I'm the author.) Later (I didn't get the wallet) I overheard a friend's radio playing "Goody Two Shoes" and only then the penny dropped.
That is Mrs. Penguin's favorite Adam and the Ants song, but the one that really impressed me was from Adam Ant's solo work like 1990's "Room at the Top":
In 1982, Adam Ant was just one of many new wave breakouts. But not all of those made it to 1990 still releasing singles that sounded up-to-this-minute. Anyway, in playing Six Degrees, we uncover fascinating little trivia glitter like:
Guitarist Marco Pirroni started with Siouxsie and the Banshees
The time: September 1976. The place, the 100 Club Punk Special, a 2-day event held at the 100 Club, Oxford Street, London, England. The line-up included Siouxsie and the Banshees, Sex Pistols, and The Damned, to name a few. Jon Moss, of The Damned, would also go on to join Adam and the Ants.
Marco Pirroni served guitar duty, at this very first performance of S&TB, notable for having shared a stage with Sid Vicious on drums. Aren't you glad you know? Pirroni would later join The Models from 1976 to 1978, before hooking up with Adam and the Ants. Since then, even though Adam and the Ants disbanded by 1982, Pirroni and Adam have remained close collaborators.
Adam and the Ants Shared Members With Bow Wow Wow
The short-lived new wave band Bow Wow Wow (can't believe we have that one) is of course the one you know now as the initial home of one vocalist George Alan O'Dowd, now properly known as Boy George. Bow Wow Wow was formed with David Barbarossa (AKA Dave Barbe), guitarist Matthew Ashman, and bassist Leigh Gorman.
Bow Wow Wow went mostly nowhere special except for, of course, the one '80s smash pop hit you'll never get out of your head. Ashman, Barbe, and Gordon would run their course in Bow Wow Wow's 3-year life before rolling over to join Chiefs of Relief.
Drummer Jon Moss Went On To Culture Club
Naturally, since Boy George's name came up earlier, you know that he went on to found Culture Club. Jon Moss joined in too, after the two made a brief stop in a band called In Praise of Lemmings. Which now ties in Culture Club and all the bands revolving around them.
Jon Moss would have been aboard by the time they made "Do You Really Want To Hurt Me" from their debut album Kissing to Be Clever. Since – on that fateful day I was a crust punk digging through wallets at a flea market stand – I also remember encountering a Culture Club *wallet, this means I did not hear of Adam and the Ants until after they'd disbanded. Well, that case is closed.
Connections Through Sex Pistols
That still leaves this wing of UK new wave pop plugged into Sex Pistols and all the shenanigans around them. Through bassist Glen Matlock, we get his post-Sex-Pistols career of a run of prolific band hops: Rich Kids, Vicious White Kids, Bette Bright and the Illuminations, The Jimmy Norton Explosion, the Spectres, Johnny Hates Jazz (as Hot Club), The London Cowboys, and tons more ever since. Itchy feet, that Matlock!
As for Johnny Rotten, AKA John Lydon, later went on to join Public Image Ltd. (often abbreviated to PIL). Public Image also brought Johnny together with Keith Levine, formerly of The Clash.
That's the Whole Anthill!
Of further worthy mention is Ultravox, another Sex Pistols connection through Matlock's Rich Kids bandmate Midge Ure. Midge ran through Thin Lizzy for a 2-month stint before hooking up with Ultravox. Ultravox had its own smash run throughout the rest of the '80s.
So, what do you get? Extensive connections to Adam and the Ants' deep punk rock roots. Together with most of the British new wave of the '80s, this made up the UK half of the new wave genre, with US bands such as Talking Heads, Devo, and B-52s filling in the American new wave duet. Ain't that fascinatin'?