Whistle While You Work - Songs With A Chain Gang Theme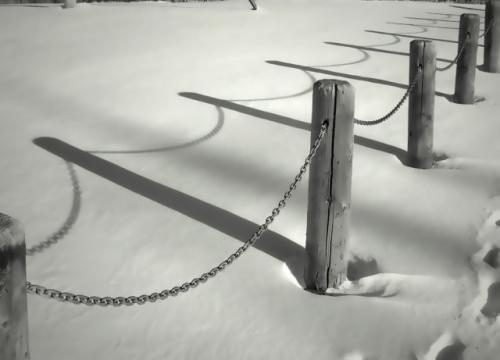 For those of you complaining about the summer heat wave out there, remember that it could always be worse. You could have been out in the sun all day, doing grunt labor with an idiot stick (Idiot Stick, n.: A stick with a shovel blade at one end and an idiot at the other.), while chained to people on either side of you doing the same thing. The concept was called a "chain gang", a method for forcing hard-time prisoners to do road and crop work, earning their keep.
Chain gangs were common throughout the southern United States, mostly to fill the vacuum left when the south couldn't depend on slave labor anymore. They were phased out by the 1950s, due to mostly civil rights concern, and have only sporadically been brought back since then (Alabama tried it in the '90s). Today's equivalent is something you might have seen: prisoners in orange vests picking up trash along the highway. But in their day, chain gangs got their foothold in American culture, reflected in films such as Cool Hand Luke, The Green Mile, and The Defiant Ones, and also showing up in songs like...
Back on the Chain Gang - The Pretenders
The most famous example today, this hit #5 on the Billboard Hot 100 in 1983. Pretenders lead singer Chrissie Hynde meant it as a kind of ex-lover ballad to Ray Davies of The Kinks, since they'd been a couple and even had a child together. The song features a chain gang chant - "Hoo.... Ha!" - that's inspired by the chant from the next song:
Chain Gang - Sam Cooke
"That's the sound of the men working on the chain gang." A 1960 single that hit #2 on the US Hot 100 and #9 in the UK, still played on oldies' stations today. Supposedly, Cooke was inspired by encountering real-life chain gangs while touring in the south. It's the definitive chain gang song, covered many times and echoed in music culture.
Livin' On A Chain Gang - Skid Row
From Skid Row's second studio album, Slave To The Grind, released 1991. This song continues Skid Row's sometime tendency to narrate stories about downtrodden individuals in their songs (compare their biggest hit, "18 and Life").
Chain Gang - Hell Razah
You know Hell Razah when you associate him with Sunz of Man and Wu-Tang Clan. The rapper made this song in 2007 on his album Renaissance Child, and it samples and expands upon the Sam Cooke song mentioned above.
Chain Gang Special - Woody Guthrie
This would have been around 1947 or so. Understand that Guthrie was a folk singer and not very focused on commercial concerns, plus this was before the information age, so you have to pitch here and there to find an album with any given song - including the Library of Congress. But this song, rich with beautiful harmonica work, is found on several popular Guthrie collections. Another Guthrie song with the same theme is "Chain Around My Leg".