Bewildering Lead Singles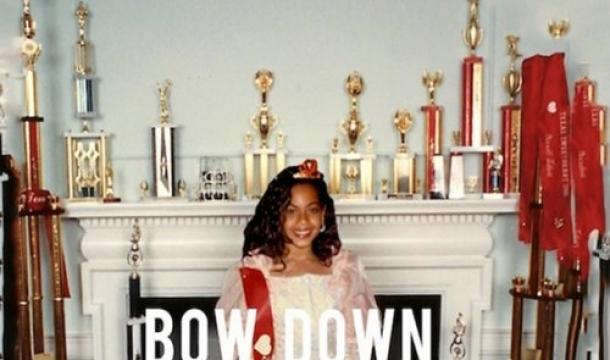 It's not yet quite clear whether "Bow Down/I Been On" is a proper single or simply a teaser for her upcoming fifth album. But it's fair to say that the newly-unveiled track is undoubtedly one of the most bewildering moves of Beyonce's career. The "Harlem Shake"-esque intro, the aggressive, almost megalomaniacal response to both her admirers and haters ("I know when you were little girls you dreamt of being in my world. Don't forget it. Respect that. Bow Down bitches"), that at various points is chopped and screwed up beyond all recognition, the mid-song change to the medieval classical backdrop of her O2 ad campaign - to call it deranged would be putting it mildly. But she's not the only mainstream artist to shock everyone with the first glimpse of new material. Here's a look at five other utterly bewildering lead singles to have emerged since the turn of the century.
Mariah Carey-- "Loverboy"
2001 was an 'annus horribilis' for Mariah Carey. Previously regarded as the ultimate diva in pop, she then became a laughing stock thanks to an erratic appearance on MTV's Total Request Live and a big-screen debut that made Showgirls look like Citizen Kane, before it was revealed that in fact, she was in the midst of a physical and emotional breakdown. Even with all that, it was the lead single from her equally disastrous eighth studio album, Glitter, that has remained the nadir of her career. A tune-free mess where Carey's usual ear-piercing tones appear to have been shunted onto a completely different song altogether, "Loverboy" was such a car-crash of a song that it virtually derailed her career for half a decade.
Tom Jones-- "Tom Jones International"
Tom Jones' career has had more lives than a clowder of cats, which perhaps explains why the Welshman thought he was so invincible he could get away with such an embarrassment as "Tom Jones International." Destroying all the goodwill he'd built up with 1999 duets collection, Reload, in one foul swoop, this Wyclef Jean-produced track tried to reposition the then 61-year-old as a 'hip and happening' R&B ladies' man. But instead he resembled a hopelessly out-of-touch grandfather figure trying to get down with the kids. Horrendous on every level.
Robbie Williams-- "Rudebox"
Before 2006, Robbie Williams seemed untouchable. But the theory that he could even record a cover of "The Birdie Song" and watch it sail effortlessly to the top of the charts kind of fell down when the title track lead single from his 'dance' album left the mouths of even his most ardent fans gaping wide. The former Take That star might have thought the Sly & Robbie sample would have at least ensured a little credibility to his 80s hip-hop homage. But his bizarre stream-of-consciousness rap ("TK Maxx costs less, yes, Jackson looks a mess, bless") suggested that Vanilla Ice was the only MC he'd ever heard.
Sugababes-- "Get Sexy"
Famed for their revolving door line-up policy, Sugababes had quite effortlessly become the coolest girlband Britain had ever produced, largely thanks to a stylish mix of R&B, pop, electro and soul which avoided the factory line production of their peers, but also due to their refusal to pander to the whole men's magazine market. But perhaps aware that Girls Aloud had taken their crown, Heidi, Keisha and Amelle resorted to hugely desperate measures for their 2009 comeback single. Featuring a trashy synth-hook that even will.i.am would reject for being too brainless and a sample of Right Said Fred's "I'm Too Sexy," "Get Sexy" was the complete antithesis to everything they had previously stood for, as was its revealing video which pretty much proved to be the final nail in their coffin.
Kate Nash-- "Under-Estimate The Girl"
Instrumental in the success of the whole Mockney-pop scene of the mid-00s, Kate Nash initially appeared to be a convincing rival for Lily Allen with her 'bitter/fitter' rhymes and oddball confessional tales. But after a disappointing retro-soul sophomore, she changed tact completely for her third album, Girl Talk, by going all riot grrrl. Unfortunately, teaser track "Under-Estimate The Girl," apparently written and recorded in less than 24 hours, sounded exactly like what you'd expect a BRIT School graduate pretending to be a bratty and rebellious 90s feminist to sound like and was immediately met with a response of 'is this a joke?' Sadly, it was all for real.