Vampy Vocals: Nine Songs About Vampires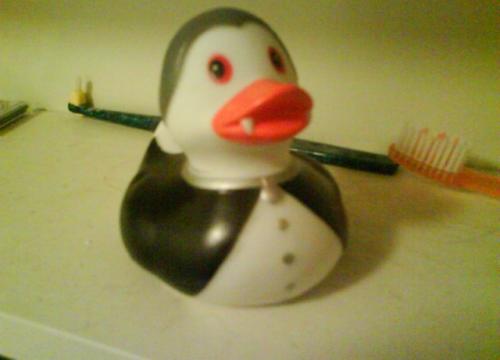 Apparently, our whole culture is going to be sucked up (pun intended) into vampire romanticism. With the Twilight series showing no sign of waning from popularity, we're seeing no end to copycats, spinoffs, and ripoffs. In publishing, you can't get any other kind of book published right now; all the agents list "paranormal romance" as their top interest. We're expecting a vampire to run for president next term. Oops, actually, somebody already tried to make the sitting president into a vampire with a musical:
Barackula is... "a short political horror rock musical about young Barack Obama having to stave off a secret society of vampires at Harvard when he was inducted into presidency at the Harvard Law Review in 1990." You read it here first, true fans!
Unsurprisingly, vampires are a common subject in music... so here's some suggestions to add to your playlist for those carefree nights dancing in Dracula's disco!
"Vampire Bat" - Wesley Willis - Since we mentioned Barack, that leads right on to a Chicago theme with a vampire bat menacing the Windy City. Did we mention Willis was a lifelong schizophrenic?
"Vampire Girl Prefers Me Alive" - J Church - The punk rockers give a twist to the old legend, with a mundane male falling in love with a vampire female, only to make the title conclusion after spying on her reveals that she preys on convenience store clerks.
"Dracula's Wedding" - OutKast - The hip-hop group vamps it up with a musing on commitment issues for the undead, from their Speakerboxxx/The Love Below album.
"Vampira" - The Misfits - From their Walk Among Us album, the quintessential horror-punk band donates a tune to the title character, played by actress Maila Nurmi in role you'll surely recognize from that cinematic classic, Plan 9 from Outer Space.
"My Son, The Vampire" - Allan Sherman - Perhaps only Dr. Demento fans know about this one, Sherman having been a favorite novelty songwriter in Demento canon.
"Bloodletting (The Vampire Song)" - Concrete Blonde - And it's the title track from the Bloodletting album. This one is about Anne Rice's New Orleans vampires, not Stephenie Meyer's Mormon vampires
"Bela Lugosi's Dead" - Bauhaus - When three Goths are gathered together in public, they have to sing this in unison. By the way, do you know why the little Goth kid couldn't sleep? He was afraid of the light.
"Nosferatu" - Blue Oyster Cult - Of course, the ultimate icon of vampire film gets his just due from the classic nerd-rock hard-rock band.
Bonus musical: Lestat, a a Broadway musical inspired by Anne Rice's Vampire Chronicles (Rice being the previous romantic vampire author), with a score by Elton John and Bernie Taupin.