Five Astounding Things To Know About John Cale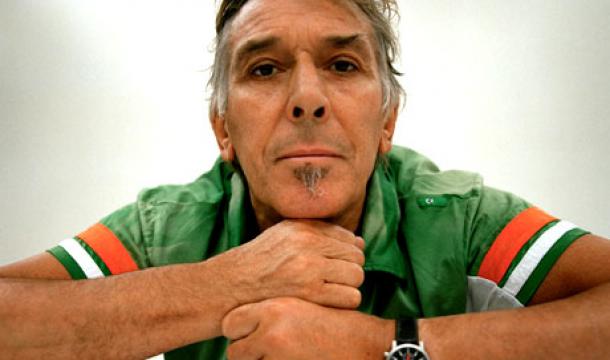 John Cale was one of the seminal members of the legendary band the Velvet Underground. And just a little while ago, we nattered about his enigma-ship (and fellow Velvet), Lou Reed. But you know what? Lou Reed always hogs the attention, and John Cale, at this time aged like a fine cheese at 71, barely gets one-tenth of the ink. Which is a shame, because this unassuming son of a Welsh coal miner has made such a mark on the world of music over his 4-decade+ career that just a fraction of his adventures would exhaust the rest of us mere mortals.
#1. John Cale appeared on a 1963 episode of I've Got A Secret
As you might guess, it was one of those gimmicky game shows they liked back in the '60s. Just think, this man who was in a black-and-white TV episode has released an album as recent as September of 2011 - that's an XP album Extra Playful, on Domino Records.
#2. Before Velvet Underground, John Cale was part of the Theatre of Eternal Music.
This was an early-60s sort-of art-rock group, having legs each in Fluxus and neo-Dada and other rebellious art concepts. In other words, they were the proto-proto-punk before the proto-punk. Together with legendary avant-garde musician La Monte Young and half a dozen other influential musicians you should know, they proceeded to blow everyone's minds with music that was deliberately orchestrated to not make sense - in fact, to defy it. Here's one such recording from them:
#3. One of the pieces composed from the above-mentioned group involved feeding an instrument.
I quote the invigorating book Love Goes to Buildings on Fire: Five Years in New York That Changed Music Forever, in describing an early Young work for a John Cage associate:
"Piano Piece for David Tudor #1" instructs the performer to "Bring a bale of hay and a bucket of water onto the stage for the piano to eat and drink. The performer may then feed the piano, or leave it to eat by itself."
Not involving John Cage directly, but a life spent not knowing these things must be regarded as incomplete.
#4. John Cale produced and performed on the first album by Iggy Pop and the Stooges.
Cale met Iggy on New Year's Eve, 1973, at the Academy of Music in Union Square New York, where they were all performing at the festivities along with other groups you might have heard of like Blue Oyster Cult and Kiss. Iggy was so impressed that they invited John Cale to godfather the band's debut, and that's how "I Wanna Be Your Dog" happened:
Now see, you never hear about Cale's involvement with things like this. He's always in the background.
#5. John Cale also produced for The Modern Lovers' debut.
In fact, Jonathan Richman was a huge Velvet Underground fan and if you can't hear their influence in some Modern Lovers tracks, you're as deaf as Miley Cyrus' publicist. Here's probably the best-known Modern Lovers hit, "Roadrunner":
And that book Love Goes to Buildings on Fire calls us back yet again to tell us about Jonathan Richman:
The Modern Lovers were definitely not a hippie band. This was clear to those who had heard the unknown Richman playing his guitar in the parks of Cambridge, yelling things like "I'm not a hippie!" and "I'm not stoned!" to anyone within earshot, and playing songs like "I'm Straight," in which the singer tries to woo a girl away from a character named 'Hippie Johnny.'
Isn't that inspiring? Let's just drop everything and go do that right now!
By the way, True Punk fans will be quick to remind you that The Modern Lovers were the ones with "Pablo Picasso," and it was the cover version of this song which made its way onto the soundtrack for Repo Man. Here's the Modern Lovers original:
You know what? We meant to tell you about many more astounding things about John Cale, but we're going to save that for another time now. Because the awesome just overflowed!
Related: John Cale