Lyric Interpretations' Rock Picks For A Beggar's Night Playlist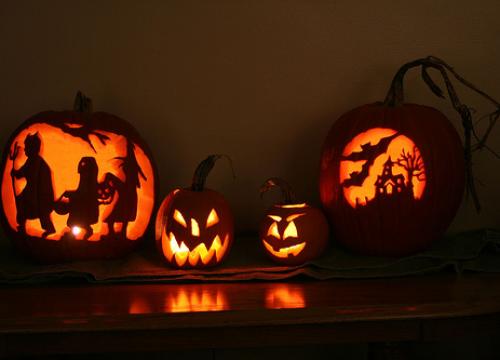 Well, don't delay! You only have a few days left to pick out your soundtrack for your Halloween party. Have you added these yet? We're going to break this into parts and just present the rock and pop hits for now. And yes, there are other lists like this one, but this one is ours!
"Ugly" - Violent Femmes
See, not the choice intuition would have told you. But really, the point of dressing up as a Halloween monster is to appear what?
"Werewolves of London" - Warren Zevon
Almost anything by Warren Zevon works - he was one of the great macabre pop artists.
"Lady Evil" - Black Sabbath
And yes, this is Dio's Sabbath, which sounded 33% wickeder than Ozzy's Sabbath.
"Wicked Woman" - Coven
Seriously, check out our blog post on Coven. This band is unknown and under-appreciated except for their out-of-character moment with "One Tin Soldier". They were actually the original Satanic psychedelic heavy metal band, before Black Sabbath was ever heard from.
"Enter Sandman" - Metallica
OK, we'll allow this conventional choice.
"Ghostbusters" - Ray Parker Jr.
We'll allow it here, even though it's technically a film soundtrack, since it also charted from radio play.
"The Torture Never Stops" - Frank Zappa
As genius as the master Frank Zappa, peace be upon his name, was, we have to admit that he didn't really do that many Halloween songs.
"Pet Sematary" - Ramones
Not so scary itself, but named after one of the most blood-freezing novels by Stephen King.
"Monster in the Mirror" - Grover, Sesame Street
Ha ha! Surprise, you don't see this on other Halloween playlists, do yah? But do you want to know who thought of it? We did!
"Chewbacca" - Supernova
In case you're going as him. Or something else that furry.
"Back in Black" - AC/DC
Another unconventional choice. But really, look around you. What color do most Halloween costumes frequently feature? Witches, vampires, ninjas, pirates, the Grim Reaper, they all wear something black. For Halloween this year, black is the new black.
"Night Prowler" - AC/DC
OK, this is the conventional choice everybody picks for AC/DC.
"Born To Raise Hell" - Motorhead
For your more mature Halloween party. Dance, devils, dance!
"Zombie Stomp" - Ozzy Osbourne
Again, lots of Ozzy gets over-represented on Halloween. But this one does go very well with your shambling undead minions.
"Psycho Killer" - Talking Heads
It's funny how many Talking Heads songs sound menacing, isn't it? That's because David Byrne's angst-soaked voice could make a nursery rhyme sound terrifying.
"Witchfinder General" - Saxon
Anything by Saxon is likely to sound great blasting from your speakers on October 31st. They took evil-inflected heavy metal and made it sound as stylish as a monocle and top hat.
"Thriller" - Michael Jackson
Yawn, how unoriginal. Feel free to substitute something else by Coven or Saxon here.
"Ghost Town" - The Specials
Hey, did somebody ask for spooky atmosphere?
"Welcome to My Nightmare" - Alice Cooper
Yawn, another unoriginal choice, but we have to drop some of them in there or we'll get comments all "what kinda Halloween playlist is this yadda yadda yadda".
"Don't Go In The Basement" - Mystic Knights (Oingo Boingo)
Oh come on, listen to it! Danny Elfman's imagination says "Halloween" no matter the occasion.
"Ghouls Night Out" - Misfits
To cap it off, just one selection from the quintessential horror-punk band.