I'm In Your Playlist, Clowning Around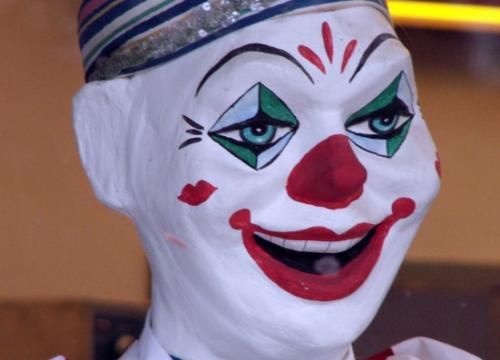 Clowns, surprisingly enough, make good material for drama. There's that whole contrast between the comedy aspect, and the fact that clowns basically mock us for being ourselves - and the things they say about us as a species are actually quite deep and heavy. Naturally, lots of pop songs have dwelt on the subject.
The Tears of a Clown - Smokey Robinson & the Miracles
Probably the most well-known example. The album this song was first released on was Make It Happen, 1970. The theme was actually by accident - Stevie Wonder and his producer Hank Cosby wrote the instrumental part first, and Wonder showed up at a Christmas party with the demo track looking for inspiration because he had no idea what lyrics would go with it. Smokey Robinson was at the same party, and commented that the calliope part made it sound like a circus. So he wrote and sang lyrics to it. Don't you just love stories like this? How come we never get invited to these kind of parties?
Cathy's Clown - The Everly Brothers
It hit #1 on the Billboard Hot 100 and US R&B Singles simultaneously in 1960. Here we see a common motif: a clown is used to symbolize humiliation as the main character pines away for a gal who rejects him. We should all do that every time we get dumped, dress up in a wig and makeup and ride around juggling on a unicycle. Actually, that might help you rebound.
Send In The Clowns - Frank Sinatra
Sinatra's version is probably the best-known, but it was originally written by Stephen Sondheim for his 1973 musical A Little Night Music. It's become a jazz standard since then, covered by Judy Collins, Grace Jones, Barbra Streisand, and various others. Sondheim apparently confused everybody with this song, because he's received tons of letters asking what it's all about and has had to explain that they're not literal clowns, but fools, and it's a theatrical metaphor because the song is written for an actress character... oh, bother. It's about clowns.
Everybody Loves a Clown - Gary Lewis & the Playboys
What, again? Another song about sad clowns who were disappointed in love? What is this, is Pagliacci the only kind of clown anybody can do? Anyway, Gary Lewis (son of Jerry Lewis) cut this in 1965 for his album of the same title; Jan & Dean and Del Shannon each took a swing at it a little later. It's still finding its way into pop culture today; for instance when Crusty the Clown on TV's The Simpsons puts you on hold...
Ha Ha Said the Clown - The Yardbirds
Finally, a jolly reference to clowns... although note that the clown said "haha", he didn't laugh it... furthermore, this is a spiteful clown laughing at somebody else's expense. This is from the double-disk album Ultimate!, with a compilation of every Yardbirds single released in the UK, so this is the only place to find many Yardbird classics that didn't get an album release otherwise.
In Dreams - Roy Orbison
Not at all a song about clowns, but if we didn't include it everybody would comment "What about that candy-colored clown one"? The candy-colored clown is just the one playing the sandman's role of putting you to sleep for your dreams, tiptoeing into your room every night to do so. Whoo! Just got a shiver of coulrophobia there.
Honorable mention: Insane Clown Posse
Ironically, clowns themselves aren't a subject of their songs. Isn't that funny?