Rock 'n' Roll Bookshelf: Backstage Passes and Backstabbing Bastards (2008)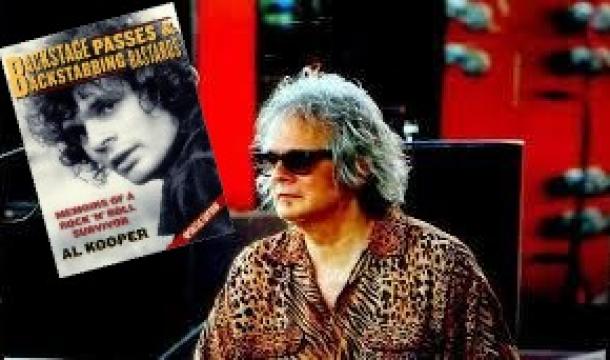 This won't be a straightforward review of the book, Al Kooper's Backstage Passes and Backstabbing Bastards. That's because Al Kooper is a character impossible to talk about without having the whole post revolve around him. We'll start by saying it's Kooper's self-penned autobiography, and a witty and engaging story-teller he is, too.
What??? You've never heard of Al Kooper? Well, by the time you're done, you'll wish you could trade lives with him.
Al Kooper, who did Super Session with Mike Bloomfield and Stephen Stills.
Al Kooper, who founded Blood Sweat & Tears, a band that later (after they kicked him out) went on to 3 Top-10 Billboard hits in 1969, including this one:
Al Kooper, played organ on Bob Dylan's "Like a Rolling Stone":
Al Kooper, who later became a music producer and signed a formerly undiscovered southern bar band you know as Lynyrd Skynyrd:
Al Kooper, who also produced the first album for The Tubes:
Al Kooper, he shared a studio and stage or two (by invitation) with Jimi Hendrix (page 94 of the book has a photo of same). Al Kooper, hung out with Elton John (page 155, photo). Al Kooper, was visiting with George Harrison and Ringo Starr the very night they got the news of John Lennon's passing away (page 231, photo). Al Kooper, did soundtrack production for film director Hal Ashby (page 151, photo).
This is why we can't just do a straight book review of Kooper's rollicking, frolicking, outrageous, no-punches-pulled autobiography. Just to introduce this stellar personality takes a whole blog post, and then there's no room for the blinking book!
Kooper is kind of like the Forest Gump of rock and roll: He managed to witness and/or participate in and/or create the bulk of the golden age of rock firsthand, through mostly innocently wandering into the wrong studios at the right time. But his sheer drive to be in and stay in the music business certainly helped along: Among many anecdotes he tells us, he wasn't even scheduled to play with Dylan on the day of recording "Like a Rolling Stone" - but he ran in to replace the scheduled studio organ player on that day. Since he didn't know the song that well, his notes came in with a slight delay because he bluffed his way through the whole thing, listening to what the band was doing first and then playing along.
See, that's just one thing you didn't know about a famous piece of music, and it took Al Kooper to tell you. And now you know who Al Kooper is, which - trust us on this - will come in handy in the afterlife where he'll be minding heaven's pearly gates whenever Saint John takes a smoke break, because he'll likely work his way to the top there, too.