The 9 Strangest Deaths of Rock 'n' Roll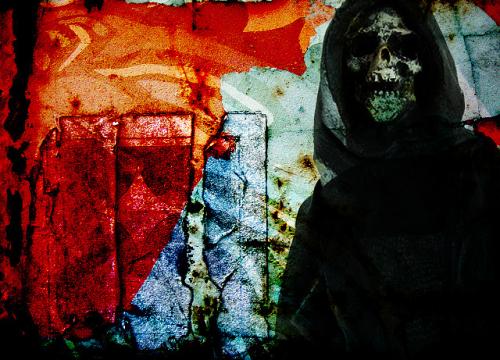 Say what you will for the musician's lifestyle, it certainly leads to its share of misadventure. And inevitably, the Grim Reaper tends to catch up with you in the darndest situations when you're racing along on the edge of life. Here's the nine most extraordinarily weird ends of some of our most famous performing musical artists.
#1 Taylor Mitchell - Canadian folk singer
For unique deaths, how about being the only adult to have ever died of that particular cause in recorded history? Such was the case with Mitchell, who by the tender age of 19 had already been invited to play at the Winnipeg Folk Festival and was nominated for Young Performer of the Year at the Canadian Folk Music Awards. But on October 28th, 2009, she was hiking along the Skyline Trail in the Cape Breton Highlands National Park in Nova Scotia, when she was attacked by two wild coyotes. Other hikers came upon her a short while later and called 911, but by the time she was transported to the hospital she was pronounced dead. The only other human in history to have died from attack by coyotes, which are native to North America, was a three-year-old toddler in Glendale, California.
It was a Friday, September 3rd, 2010, when Edwards drove his van along the A381, a rural route between Harbertonford and Halwell near Totnes, Devon, England. As he drove past a hill, a hay bale weighing 600 KG (about 3/4 of a ton) rolled down the hillside and smashed his vehicle, killing him. Police believed that it might have been set rolling by a tractor on an adjacent farm. He was scheduled to play in Totnes with the medieval folk band Daughters of Elvin the following Saturday.
#3 Keith Relf - lead singer and harmonicist for The Yardbirds
Relf, at age 33, was practicing on his electric guitar at his home in London, England, on May 14th, when he was electrocuted by improper grounding on the guitar. At the time, he was rehearsing for an upcoming gig with his new group, Illusion, which would have been a reunion spawned from previous group Renaissance.
#4 Leslie Harvey - Scottish guitarist for Stone the Crows
Electricity strikes again, with Harvey, who was on stage performing at Swansea's Top Rank Suite on the 3rd of May, 1972, when he touched a microphone with wet hands. The microphone was also improperly grounded, and the resulting electrocution killed him.
#5 Tiny Tim - stage singer and ukulele player
His birth name was Herbert Khaury, but he chose the stage name from the character in Charles Dickens' classic. Khaury was performing on stage at a ukulele festival at the Montague Grange Hall in Montague, Massachusetts, in September of 1996 when he sufferd his first, non-fatal heart attack. He was rushed to a hospital and stayed there for three weeks under treatment, before being released with the warning that his failing health from diabetes and heart conditions would no longer allow him to perform. He apparently chose to ignore this warning and was performing again at a Gala Benefit at The Woman's Club of Minneapolis, Minnesota, on November 30, 1996, when he suffered a second heart attack, this time fatal.
On December 8th, 2004, Abbott was in concert with Damageplan at the Alrosa Villa in Columbus, Ohio, when a gunman in the audience opened fire on the stage. He was shot three times, one to the head, and died at the scene. The gunman also managed to kill three others in the audience and wound seven more before police officers to the scene shot him down. The motives of the gunman, Nathan Gale, who was an ex-Marine, remain a mystery to this day, although he had a history of disturbed psychological episodes.
Several musicians have been killed in airplane accidents, but they're usually flying for the purpose of commuting. Rhoads, reportedly having a fear of flying, was with the rest of Osbourne's tour on March 19th, 1982, on their way to a performance at a festival in Orlando Florida when the group took a rest stop in Leesburg. While there, the tour-bus driver, who was also a licensed pilot, offered to give free rides in his Beechcraft Bonanza F-35 plane. It was after a successful flight with other passengers that Rhoads decided to nerve up and ask for a flight, upon which the plane, after two successful circuits, clipped the tour bus when it flew too low and crashed in a fireball.
#8 Karen Carpenter - co-lead singer for the Carpenters
Karen Carpenter had suffered from anorexia nervosa, then an almost-unknown condition, for years. This took its toll on the 4th of February, 1983, when she died from a combination of heart attack and weakness and loss-of-weight from her condition. She was 32 years old, residing in Downey, California, and had recently had arguments with her brother about her weight and health.
#9 Sam Cooke - solo artist/songwriter, a pioneer in soul, R&B, and gospel music
Cooke was fatally shot at the Hacienda Motel on Figueroa Street in Los Angeles, California, on December 11th, 1964. What was unusual were the circumstances of the misadventure that led to the incident; Cooke was staying at the hotel with a mistress, Elisa Boyer, who suddenly took his clothes and ran out of the room. Cooke pursued her, naked, into the hotel lobby and the hotel manager, Bertha Franklin, ran into him and apparently was scared that he was going to attack her, so she shot him.
#10 Honorable exclusion: "Mama" Cass Elliot - singer of The Mamas & the Papas
Mama Cass certainly did not die from choking on a ham sandwich, urban legends to the contrary. She died of a heart attack in bed; a half-eaten ham sandwich was present at her bedside, but autopsy results rule it out as having played a role.