One Bourbon, One Scotch, One Beer, One Song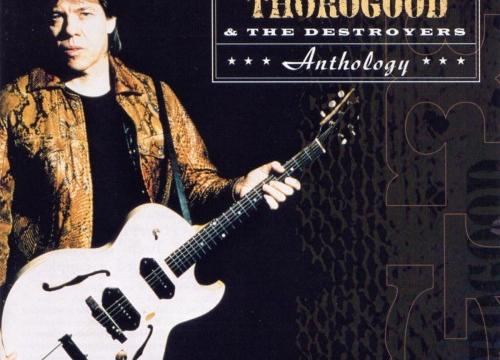 Every now and then the version of "One Bourbon, One Scotch, One Beer" by George Thorogood and the Destroyers swings around on the radio. If you don't hear it that way, you hear it on the TV series Glee. Especially if you got introduced to the song via the Glee version, you're probably going to be lost.
It's quite a creation, but not a lot of it is original with George himself. Instead, it's a cover, and furthermore, a cover of two songs turned into one medley. Mapping the sources for this song will run us deep into the roots of blues history.
Start with Mr. Blues Godfather Himself, John Lee Hooker. Hooker originated the style of "talking blues" where he narrates a story over guitar. One of his 1950s' hits was "House Rent Boogie", which had little to nothing to do with drinking. It simply tells a sad-sack story of a drifter guy shirking off the rent money, through various confrontations with his landlady. Some versions portray him as more sympathetic, others have him telling a lie or two and even trying to con a friend. "Talkin' 'bout the back rent, she lucky she get any front rent." is a typical line from the shiftier versions.
Next, we go to Rudy Toombs (don't you just envy that name?), a blues singer / songwriter who started out in vaudeville and wound up cranking out Brill-building-era doo-wop and R&B through the 1950s for Atlantic Records. Working under Ahmet Ertegun, Toombs wrote hits for the likes of The Orioles, James-Brown, Amos Milburn, and other legends of the 1950s' blues revival. He wrote the original "One Bourbon, One Scotch, One Beer" for Milburn in 1953. This since got covered by John Lee Hooker in 1966, who altered it for his own story-telling style. So that's a feature that's lost on modern audiences - the blues was originally more of a ballad-style, with characters, a narrative, and a plot.
Both "House Rent Boogie" and "One Bourbon, One Scotch, One Beer" tumbled around in blues history being covered by various artists. It was merely George Thorogood who tied the two songs together, recognizing that two great songs were even better when woven together. And together (in the Thorogood version), you now have a guy who can't get a job, can't pay his rent, can't get his friends to help him, slips out the back door with his few possessions, and then ends up in a bar boozing it up, apparently spending all the money he could have put up for rent (unless he's going to stiff the barkeep's tab, too).
Hey, given the big real estate market crash we've been having lately, can anybody out there identify? Now all we need to do is give it a couple more characters and Delroy Lindo can play the lead in the movie.