Tangerine Dream : The Most Famous Band You Don't Know Any Songs To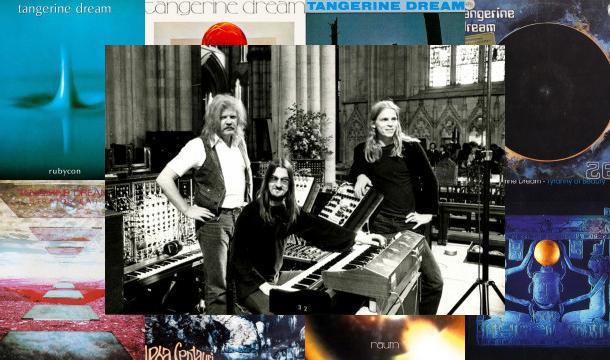 Hey, music fans! Remember that one big hit Tangerine Dream is famous for? You know that one hit that shot up the charts and got tons of radio airplay? No? It seems like it's just on the tip of your tongue, doesn't it?
Well that was a trick question. Tangerine Dream has never charted a single on the US Hot 100. Tangerine Dream has never charted a single on any US chart. Tangerine Dream has also never charted a single on any UK chart. The only known brush they have with singles' charts is in their own home stomping ground, Germany, where they have made it alllll the way up to #20 on the German singles' chart: "Das Mädchen Auf Der Treppe."
Here it is, their big hit.
Notwithstanding, they have had some moderate chart appearances for albums, but even there it's nothing much to look at. So perhaps it might seem that Tangerine Dream is one of those bands that doesn't care for the singles' chart limelight, but there is so, so much more to their story!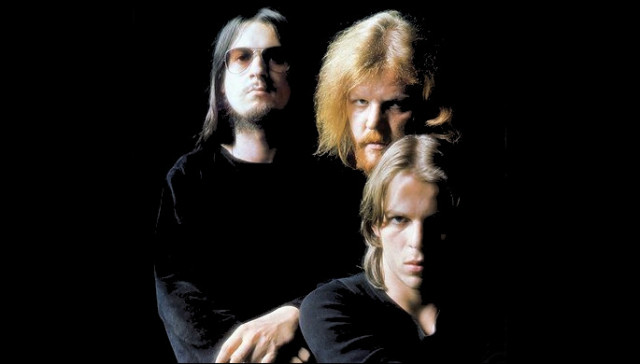 Tangerine Dream has produced 300 albums, singles, EPs and compilations!
In fact, their output has been so prolific that fans, with the group's support, have undertaken a special project to gather fan-made compilations from various sources. Tangerine Dream, you see, has been in business since 1967 - older than your humble author! - and are still producing music to this day. They are a German collective which was founded by the late Edgar Froese, the only continuous member of the group until his passing in 2015.
The group is variously relegated to categories such as Krautrock or Electronica, being actually a progressive, experimental synth group. Since their body of work contains hardly any vocals or lyrics, they are out of our usual jurisdiction here at Lyric Interpretations. But their body of work is simply too jaw-dropping in sheer volume to ignore.
Perhaps their most recognized work is in soundtrack music for film, TV, and the occasional game, among them:
Sorcerer (1977)

Risky Business (1983)

The Keep (1983)

Firestarter (1984)

Legend (1985)

Miracle Mile (1988)

Grand Theft Auto V (2013)
And that's the closest thing you can claim to familiarity with Tangerine Dream stateside, unless, of course, you're a fan already. It doesn't help matters that their name sounds like some 60s one-hit-wonder like Strawberry Alarm Clock or The Lemon Pipers. No, they are not like your average band named after fruit. They found a groove in ambient synthesizer music and have stayed there ever since.
Keeping score on their output almost requires a team of accountants, but at this point, Discogs reports:
146 albums

75 singles and EPs

95 compilations
But again, Tangerine Dream is one of those prolific ensembles whose works almost defy complete cataloging. Just when you think you caught 'em all, up pops some obscure live guest spot on TV. That's because band founder Edgar Froese was an uncontainable force of nature. While he had dabbled in music since childhood, he started out wanting to be a sculptor at the Academy of the Arts in Berlin. He also started a degree in philosophy and psychology, driven by his weighty intellect. After abandoning academia, it was only then he figured, what the hell, be a musician. Then he launched the band that launched 146 albums.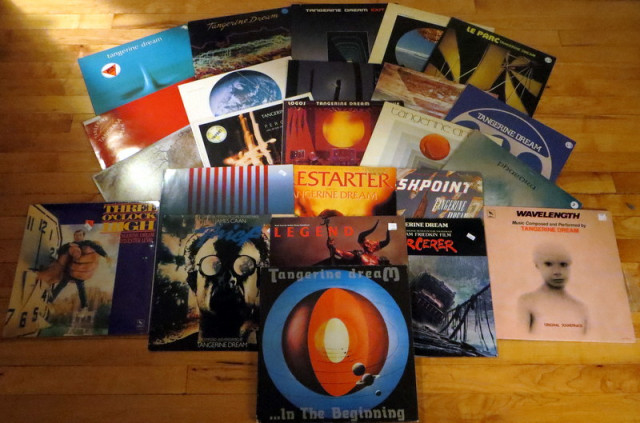 Tangerine Dream : Starting Points for the Beginning Listener
So you're just discovering Tangerine Dream and want to dive in and explore. Where do you start? Since their output is so vast, fans have taken to carving up the Tangerine Dream catalog into eras, with an idiosyncratic naming convention.
Pink Years (1967-1972) - named after the Ohr label's logo, a pink ear

Virgin Years (1974-1982) - Virgin records label

Blue Years (1985-1988) - named after the Jive Records logo, blue

Melrose Years (1988-1990) - group member Peter Baumann's private label was headquartered on Melrose Avenue, LA

Seattle Years (1991-1995) - working under Miramar label in Seattle

TDI Years (1996-1999) - finally just created their own TDI label

Eastgate Years (2005-2014) - TDI was renamed Eastgate

Quantum Years (2014-present) - Edgar Froese, in his final years, started thinking in terms of applying quantum physics properties to music (no kidding)
So there is at least a way to sort them. Now for a few points of interest:
Zeit (1972) - A double-album which is credited by many as inventing dark ambient music

Phaedra (1974) - Their highest-charting album, #15 on UK charts and only BPI certified gold album

Force Majeure (1979) - One of their more approachable albums, with a sound that is vaguely reminiscent of Pink Floyd

Tangram Set One (1980) - One of the essential Tangerine Dream showcase albums, an album with just two epic tracks, but with a great deal of variety within sections

Hyperborea (1983) - One of many notable style shifts over the years, this album was a radical shift from their former sound, this time with a diverse, "world beat" feel to it

Risky Business and Firestarter (1984) - Their two most outstanding film soundtracks

The Dream Mixes (1995) - First of their "dream mixes" series, which are scattered among their TDI output

Inferno (2002) - The first of the Dante trilogy, this is an album of very short tracks for once, as a concept album for Dante's Divine Comedy, and also having some actual vocals

Madcap's Flaming Duty (2007) - One of the few Tangerine Dream albums to have actual vocals, also a tribute (as the title would suggest) to Pink Floyd's Syd Barrett, R.I.P. 2006

Under Cover – Chapter One (2010) - So far the only complete album of Tangerine Dream playing covers of other artists, including David Bowie, Leonard Cohen, and… The Beatles!

The Island of the Fay (2011) - The first in Tangerine Dreams' Eastgate's Sonic Poems series
Tangerine Dream : Do One Thing, But Master It!
Tangerine Dream might yet prove to be a band, similar to Grateful Dead, where the culture takes on a life of its own. Listening to the group's entire output might be a years' work or more. The fan base clumps around various eras. Each fan will have their own favorite track or album.
Overall, their work speaks to a yearning for the eternal, a reaching for the stars. Froese was a deep thinker in his own world. If you convert to a Tangerine Dream fan for life, it's bound to have an eventual impact on your whole world view.
Think outside the "hit single"!