Musical Curses: The 27 Club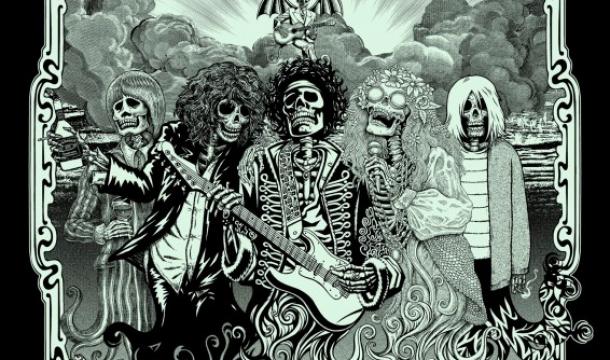 Curses. They come in many different shapes and forms including the musical curse that's been dubbed The 27 Club. If you're unfamiliar with the term, The 27 Club doesn't refer to a jinxed nightclub, and they aren't picky about who they let in as long as you meet a few requirements. It's a club reserved for musicians, but only those who have met their untimely demise at the young age of 27.
While The 27 Club isn't official, a lot has been made of the curse in the media, and there is even a 27 Club movie along with several books. Some members of the club have been lost to time, and there are countless unnamed musicians on the list to go along with all the famous ones. The first musician a lot of people associate with the club is Robert Johnson, a blues singer from the 1930s that didn't receive much attention while he was alive.
The rumor/myth is that he sold his soul to the devil to gain his amazing skills, and while we won't go into that, we'll just say he died at the age of 27 from unknown causes. Some claim he was poisoned while others believe he met his end from the deal he made with the Devil at the Crossroads. Either way, he received a lot more attention after his death than he did in life which is another side-effect for some members of The 27 Club.
Robert Johnson may have been one of the first members of the club, but he isn't the last. Heard of James Marshall Hendrix? Jimi was pretty good with a guitar as well, but his life ended far too soon when he died from an overdose in September of 1970. A month later Janis Joplin went in a similar fashion, and less than a year later Jim Morrison joined the club. Yeah, it was the 70s and drug use (and overdoses) were rampant, but it's still unusual to say the least. The 60s saw its share of losses as with the deaths of-The Rolling Stones founder Brian Jones, and Rudy Lewis from the Drifters. All 27 years old.
While a large portion of the club's members have passed on from drug related deaths, that's not the case for all of them. Ron "Pigpen" McKernan of the Grateful Dead died from a Gastrointestinal Hemorrhage in 1973, and Badfinger's Pete Ham committed suicide in 1975. -Notable deaths in the 80s include Pete de Freitas of Echo & the Bunnymen, and Jacob Miller from Inner Circle.
One of the clubs most-famous members-from recent times-died in the 90s, and the facts around his death are somewhat murky to this day. Kurt Cobain took his life in 1994 sometime after leaving rehab, and oddly enough a few months later Kristen Pfaff of the band Hole died from a Heroin overdose. Both were 27, and Kurt was married to Hole's lead singer Courtney Love. The latest high profile musician to join the list would be Amy Winehouse who died from alcohol poisoning in 2011.
Musicians are just like anyone else, and while they do die at different ages, a lot of them do seem to pass away at 27. Whether you think it's a curse or an odd coincidence, The 27 Club a club you definitely don't want to join if you're a musician.
TAGS - Music, The 27 Club, Kurt Cobain, Jimi Hendrix, Janis Joplin, Amy Winehouse, Robert Johnson, Curses