Yes, There Was Life Before MTV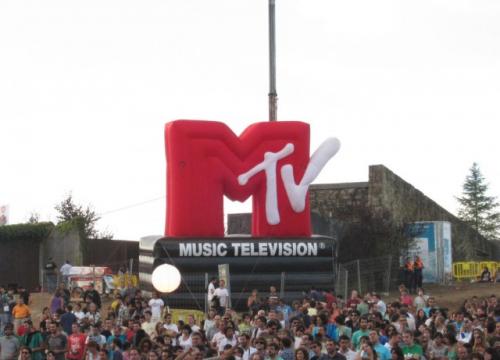 When MTV came out, the commercials aired urging viewers to call their cable provider and demand "I want my MTV!" That particular jingle was written by executive George Lois, and before the end, he could barely go to a party without people coming up to him and saying it. It nearly drove him cuckoo. He'd flown all the way to France to talk to Mick Jagger to do the first spot, who responded "You want me to do a commercial?" They had to talk him into it.
But really, MTV wasn't nearly as much of a revolution as we think it is now. It was the first whole channel devoted to video music, launched in August of 1981. But by far, it wasn't the first time music was shown on TV. And before they had videos, the next biggest thing was getting your song on a dance show where a TV personality announced your song with a flourish.
Soul Train - Launched in 1971, beating MTV by a whole decade. While it focused more on soul, funk, disco, gospel, and jazz artists, it definitely had its finger on the pulse of the hottest trends in Western music of the time. Soul Train, with live bands and dancers led for much of the length of the show by the intrepid Don Cornelius, ran for thirty-five years - the longest continuously-running original syndicated US television series, a record that will stand until at least 2016. Much longer than MTV kept showing videos. The impact of Soul Train on Western music is simply inestimable. It launched or boosted the careers of Gladys Knight & the Pips, Curtis Mayfield, The Jackson 5, Al Green, Smokey Robinson, Kool & the Gang, and Sly & the Family Stone, to name just a few from the first few years.
American Bandstand - Trying harder because it was number-two! Led by Dick Clark, American Bandstand was more of an early MTV prototype - you didn't get on there until you were already famous. While its total run, starting from 1952, matches that of Soul Train, American Bandstand wasn't on continuously in the same format. Led by the iconic Dick Clark, without whom it simply isn't New Year's, the show did feature a who's-who of American pop music. From ABBA and Adam and the Ants to Stevie Wonder and "Weird Al" Yankovic, American Bandstand attracted the top talent within its niche and some from outside it.
Top of the Pops - The closest thing to being a better MTV than MTV, this BBC series ran for an amazing 42 years starting in 1964. Top of the Pops straightforwardly invited bands whose singles were scoring high that week to appear live on the show and perform a set, along with the requisite dancers. The show followed strict rules, such as that a group couldn't appear if their single was on the way down, nor could any song be played on consecutive weeks unless it was still at number one. The British invasion of American music started here, with such acts as Gerry & The Pacemakers, Manfred Mann, The Rolling Stones, The Animals, and of course, The Beatles - and that was just the first year!
Solid Gold - Just when you were thinking that all music-TV shows were hoary old things running for generations, <em>Solid Gold</em> ran just nine short years, from (September) 1980 to 1988 - just squeaking onto this list by proceeding MTV's launch by eleven months. The show was more of a knock-off of both Soul Train and Top of the Pops, with dancers gyrating to Top-10 hits of the week. Guest artists would turn up to lip-synch their hits. It was a cacophony of flashpots and a rotating cast of announcers from Dionne Warwick to Arsenio Hall (before he got his own show!).
Night Flight - It barely, barely squeaks onto this list because it launched in June of 1981 on the USA Network, beating MTV by two months, and it did show some music videos, in a mix with other variety show short subjects including cartoons and stand-up comedy sketches. They might even throw in a budget B-rate horror flick. Kind of a Saturday Night Live mix, it was also one of the first shows to air music videos, as well as the first run for many music documentaries including The Grateful Dead Movie.