2021 Rock and Roll Hall of Fame : Carole King, Foo Fighters, Go-Gos, and More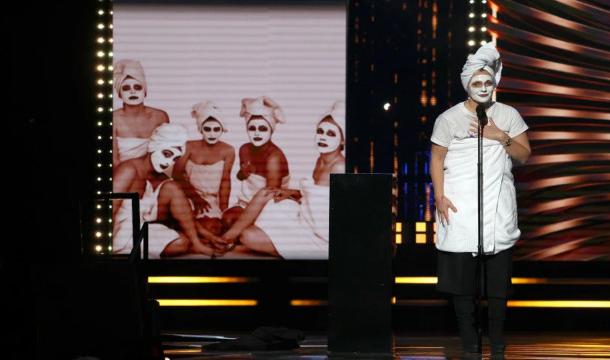 While other news probably drew your attention and Halloween festivities took up the weekend, the Rock and Roll Hall of Fame in Cleveland, Ohio, held their Induction Ceremony on October 30th. Maybe they could work to space this event apart from major holidays, so we get a chance to cover it?
Anyway, a recap is due, because this cast of inductees has something old, something new, something borrowed, and something blue.
The Most Diverse Inductees in Rock and Roll Hall of Fame History
While other award institutions struggle to meet diversity standards, the Rock and Roll Hall of Fame in 2021 honored its most diverse cast of inductees on record. But with that said, many of these names might not be familiar to our younger audience. Briefly:
Tina Turner

Carole King

The Go-Gos

Jay-Z

Foo Fighters

Todd Rundgren

Kraftwerk

Charley Patton

Gil Scott-Heron

LL Cool J

Billy Preston

Randy Rhoads

Clarence Avant
This was a well-balanced sampling of talent from throughout American music history, representing the past and present, and a spectrum of modern music genres. But who are these people? Here's a brief introduction to some names on the list and what makes them important. Mind you, each performer on our list could deserve a whole post of their own, but we'll keep the bios brief:
Tina Turner Bloomed Late
Her only #1 single to hit the Billboard Hot 100, 1984's "What's Love Got to Do With It?", Made Tina Turner, then age 44, the oldest female solo artist with a #1 hit. Turner is known for her tempestuous early career under an abusive relationship with Ike Turner, whose cocaine abuse and paranoid possessiveness of Tine drove them apart by 1976. Turner has since gone on to a much-honored career studded with awards and acolades.
Carole King Was a Brill Building Alumni
Carole King, with her Goldilocks curls, might be a puzzling addition for new generations who aren't familiar with her work. But in fact, she was one of the founding artists in what became the Brill Building genre, forming the bulk of late-1950s and 1960s American pop music.
Located in New York, the Brill Building as well as neighboring office towers became home to the music writing and publishing industry of the 1960s. Led by producers such as Don Kirshner, two-person song-writing teams would work in cubicles, equipped with one desk and one piano, one writing lyrics and one setting them to music. It was a pop culture factory that condensed music down to a formula, with an assembly line.
Carole King is both a song-writer and performer in her own right. Among the hits she'd penned which were performed by others, frequently in partnership with Gerry Goffin, you might recognize…
This was apart from her stand-alone solo career, which is positively bristling with landmark achievements all on her own.
There's More To Todd Rundgren Than a Novelty Pop Song
Todd Rundgren is best-known for his 1981 crowd-pleasing hit "Bang the Drum All Day." But his career spans from the earliest Brill Building pop (yes, with a Carole King song "I Saw the Light") to the 2020s! You just don't know about it because most of his accomplishments were in producing for other bands and artists. Here's just a few highlights of his producing career:
Rundgren's production chops have put him in the same rank as Brian Eno and Brian Wilson. He has admitted in interviews that, had he not ended up in music, his chief passion would have been computer programming. Todd Rundgren made his mark chiefly by being an experimental pioneer of digital sound and modern recording innovation.
Gil Scott-Heron Was More Poet Than Recording Artist
The late Gil Scott-Heron landed a thunderous spoken-word hit with "The Revolution Will Not Be Televised." It was so famous that it became a meme before the Internet. While he was billed as a soul and jazz poet, he is credited with being one of the founding influences of Rap, credited with being a bridge between traditional blues and hip-hop. " The Revolution Will Not Be Televised" deserves its own post someday (we swear to get around to it), since it resonates so strongly today; we could almost update it to "The Revolution Will Not be Tweeted."
Billy Preston Was Almost a Beatle
Many names are credited with being a "fifth Beatle" as being in a satellite member of the Fab Four. The late Billy Preston was one of those, with significant contributions to the albums Let It Be and Abbey Road. Preston would eventually be honored as the title "Sgt. Pepper" role in the ill-fated film Sgt. Pepper's Lonely Hearts Club Band. Aside from the Beatles, he had a significant jazz and funk career both in solo and as an in-studio keyboard artist in collaborations with George Harrison, the Rolling Stones, Luther Vandross, Whitney Houston, and even the Red Hot Chili Peppers.
Randy Rhoads Was a Guitarist Cut Short in His Prime
The late Randy Rhoads was a guitarist for Ozzy Osbourne's solo band and Quiet Riot. As we mention in our list of strange musician deaths, Rhoads died in a plane crash which was ironically only a recreational flight intended to help him get over his fear of flying. When you listen to Osbourne hits like "Crazy Train" and "Mr. Crowley," that's his lead guitar making heavy metal history.
And now you know the rest of the story…
Of course, many more inductees this year should be familiar names to anybody reading this blog. You can still find albums by LL Cool J, Foo Fighters, and Jay-Z topping sales charts right now. Most notably, no less than Barack Obama himself showed up to honor Jay-Z, an historic event all by itself.
We'll visit the Rock and Roll Hall of Fame next year, hopefully when their big wing-ding isn't happening in the middle of Beggar's Night.