Archie and All-Around Animated Acts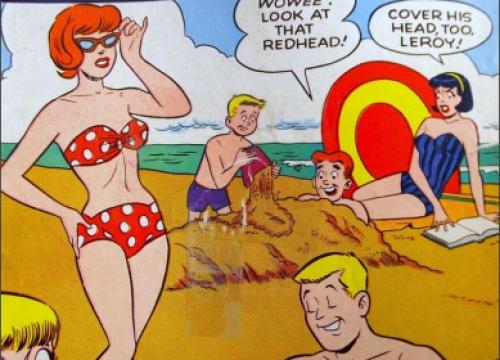 It took a lot of audacity to think of it the first time: an animated cartoon series about a band, and the characters actually sing real songs that are released on real records! The same thing had already been tried with live-action fictional bands: The Monkees were both a TV series and a band, though they were halfway legitimately each (or not, as many listeners knew a transparent Beatles knock-off when they saw one).
But surprisingly, the first attempt at an animated band took off in a big way with The Archies. And then they tried to duplicate the success again and again, until for a while there during the '70s it seemed like every other Saturday morning cartoon had its own band and record contract. We're going to try to explore all of bands in the Archie universe, and perhaps shine a light on the mysterious real-life identity behind the cartoon faces.
The Archies - By far the most famous and successful example of this category. In the first place, they scored four Top-40 hits on the Billboard Hot 100 ("Bang-Shang-A-Lang" #22, "Sugar, Sugar" #1, "Jingle Jangle" #10, and "Who's Your Baby?" #40). The Archie Show was of course the animated series produced by Filmation, based on the comic books of Archie Comic Publications beginning in 1941.
We know some of the names behind The Archies - they were produced by Don Kirshner (of The Monkees fame), and were performed by a rotating cast of session musicians, some or all of whom included Ron Dante, Andy Kim, Toni Wine, and Jeff Barry. In a 2007 interview with Songfacts.com, recording artist Toni Wine describes how it happened: "Jeff Barry was going to produce this fictitious animated group called The Archies. We went into the studio. Jeff and Andy Kim wrote 'Sugar, Sugar.' Ronnie was Archie, and I was Betty and Veronica. We went in, we did the record. It was a fun session, it was a blast." She also reveals that their true identities were to be kept a secret.
Josie and the Pussycats - Spin-offs from the Archie universe, the chief difference from the Archie series is that Josie was done by Hanna-Barbera, and Josie got a makeover as an "In Outer Space" version. Also, the story structure revolved more around Scooby-Doo-type mysteries, at least until they got out in space and then it was more of a knock-off of Lost in Space.
With a bit less secrecy, the real-life musicians behind Josie and the Pussycats got to have their real faces on the album cover. They were billed under their real names of Cathy Douglas, Patrice Holloway, and Cheryl Ladd - (yes, the Charlie's Angels Cheryl Ladd!). Danny Janssen, who also produced for The Partridge Family, shouldered songwriting and production duties. Note that the characters' voices were by other actors, while the singing voices alone were provided by the group! There was also a time when you could get a Josie and the Pussycats record single through a mail-order deal from specially-marked boxes of Kellogg's cereals. There was also a live-action film version released in 2001.
The Groovie Goolies - We're getting to the obscure part! But they're still part of the Archie series, by way of the tie-in spin-off of Sabrina the Teenage Witch, which spun off from The Archies. Sabrina is a universe unto herself, but since there was no band all to Sabrina herself, we are spared from tracking down that thread.
For those of you who missed this Filmation series, the title characters were comprised of the "hippie" versions of Universal Studios' staple monsters Dracula, Frankenstein, and Wolfman, called "Drac," "Frankie," and "Wolfie." And they were the protagonists (in fact, they were Sabrina's cousins... try explaining that), residing at "Horrible Hall," along with a literal mansion full of monsters ranging from carnivorous plants to a vulture that lived in a cuckoo clock. The whole show itself was quite cuckoo, making no sense whatsoever, but all in good fun.
OK, what about the music? The Goolies in fact named each episode after the song therein, but almost nothing remains of the credits save that we know Jackie Mills produced it (he also produced for the Brady Kids), the theme was written by Linda Martin and Janis Gwin, and Tom McKenzie, of the Doodletown Pipers, did some of the singing. The rest are probably studio musicians. The greatest chart success, however, was when "their" song "Chick-a-Boom" became a hit two years later for performer Daddy Dewdrop, hitting #9 on the Billboard Hot 100 in 1971.