Speed Freak: Music that can make you move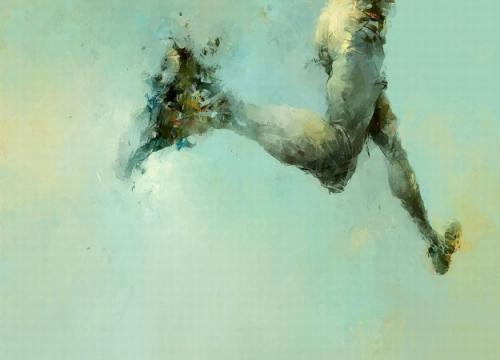 The onset of spring heralds a new phenomenon in every neighbourhood. And no, I don't mean the twittering birds and blossoms. I am referring to those sweaty, deranged individuals who can be seen hurtling around the block and pounding the streets with their iPods surgically attached to their ears in an attempt to atone for the sins of overindulging during the festive period.
Apparently, the type of music you listen to has the ability to improve your athletic performance. Clearly, Marvin Gaye's 'Let's get it on' doesn't count! I'm not talking about that type of activity... Still, there is science to back this up. In 1999, researchers at Brunel University, conducted a study that found a direct correlation between music and the motivation of athletes. Listening to a soundtrack can help ease the monotony of long runs, but increasing the beats per minute (BPM) of the music you listen to, can actually increase your heart rate, thereby making you able to run faster and longer. In fact there is a whole sub-genre of running music now populating iTunes, under the guise of 'Fitness and Workout'. Most of it is pretty dire.
This got me thinking about my own pathetic efforts. I consider myself a 'wunner' – it's like running, only lots of walking is involved! Still, this hasn't deterred me from mixing up a whole batch of playlists in order to turn a lard-butt into a more lady-like shape. These are my top five songs:
Turin Brakes. 'Will Power' from their Album 'Outbursts'. I use this to help me get my trainers laced and ready to go. Not always easy when it's cold and rainy!
//www.youtube.com/watch?v=aiubANhkcOg
New Young Pony Club. 'The bomb' from their Album, Fantastic Playroom. The words 'don't speak, coz your mind is amazing...' usually co-incide with the toxic ten minutes that start off my run. At this point, I need an iron lung, not a conversation.
//www.youtube.com/watch?v=i6EdwliogkE
Muse 'Uprising' from their Album 'The Resistance'. Strong beats and anti-capitalist lyrics make me feel angry enough to get past the 3 mile mark.
//www.youtube.com/watch?v=w8KQmps-Sog
Delphic. 'Counterpoint' from their Album, 'Delphic'. In my opinion, one of the best UK bands of 2010. This is music that never fails to make me feel happy, even though I resemble sweaty Betty.
//www.youtube.com/watch?v=YHhmyyahh4s
The Black Eyed Peas 'Boom Boom Pow!' From their Album The E.N.D. The catchy tune and crazy lyrics allow me to make it home without limping.
//www.youtube.com/watch?v=4m48GqaOz90
So inspired am I by all this marathon musicality, I've crazily signed up for a 13 mile race. Yes, I know what you are thinking....Should I actually manage to complete this herculean feat, I suspect that my top song is likely to be 'Near Life Experience' from the Lifehouse album 'Smoke and Mirrors'.