We Lost Dick Clark and Don Cornelius In The Same Year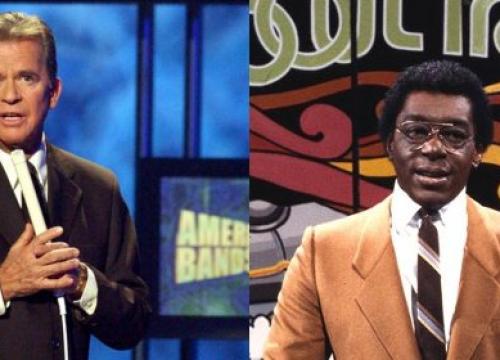 Sometimes they were rivals, sometimes they were collaborators. American Bandstand and Soul Train ran neck-and-neck, competing for viewers and record promotions as their shows ran concurrently for an overlap of 18 years. And after all that history, they passed away in the same year, Cornelius in February, Clark in April, of 2012. And before MTV and the advent of the era of "veejays", they were the first and last words on televised music culture.
But by far, American Bandstand had the longer, richer history. The show started simply as "Bandstand" in September of 1952 on a local Philadelphia TV station. And it was Bob Horn, not Dick Clark, who was the first host - the show ran through a few hosts before they settled on Dick Clark in 1956. 1952 was an ironically "square" year to begin a music hits show in retrospect - Elvis Presley had yet to walk into his first recording studio, Billboard magazine had yet to start tracking hits with the Hot-100 chart (though they'd been doing the hit parade since 1936), and the controversial airing of Lucille Ball's pregnancy on I Love Lucy was currently a bother for the censors who would not allow the show's script to use the word "pregnant".
A list of the acts appearing on American Bandstand through its 37 year run includes the who's-who of rock history. You can generate waves of nostalgia just by naming a few of them: ABBA, Adam and the Ants, The Beach Boys, Berlin, Chuck Berry, James Brown, The Carpenters, Jimmy Dean, Electric Light Orchestra, Aretha Franklin, The Go-Go's, the entire cast of the stage musical Hair, Billy Idol, the Jackson 5, Jefferson Airplane, Kool & the Gang, KISS, Darlene Love, Christine McVie, The Nitty Gritty Dirt Band, Leonard Nimoy (yes, he had a singing career), Pink Floyd, Prince, R.E.M., Dusty Springfield, Talking Heads, Bobby Vee, Wham!, and Weird Al Yankovic.
A big-box set of the entire run on DVD, if only it existed, would be a treasury of music history. Sadly, we know this to be impossible, since videotape was too expensive back in the 1950s and '60s and many of the original episodes from the first two decades are considered lost forever. But we'll still be talking about the legacy of the show for decades to come.
Meanwhile, Soul Train started up in 1970 on a local Chicago station, and from the beginning the show was aimed at being an alternative platform for African-American entertainment, which many in the music industry felt was being marginalized. Soul Train was Don Cornelius' baby from the first breath, having been his off-hours DJ show even before he landed the TV syndication deal. Cornelius himself often bristled at the comparison to American Bandstand.
Likewise, the list of Soul Train guests was a cavalcade of big names throughout its run, so we can name Paula Abdul, Bone Thugs-n-Harmony, Chic, Rick Dees, En Vogue, Pam Grier, Whitney Houston, Ice Cube, KC and the Sunshine Band, Kool & the Gang, Curtis Mayfield, Smokey Robinson, Salt-n-Pepa, TLC, Village People, and Wild Cherry ("Play that funky music white boy!").
Each show had their core theme song as well. American Bandstand had "Bandstand Boogie" in various incarnations, while Soul Train had "TSOP (The Sound Of Philadelphia)". Both songs were written for their respective shows. While Dick Clark created the American Music Awards, Cornelius created the Soul Train Music Awards, both for similar purposes to honor outstanding artists in their respective fields.
It is absolutely impossible to give the lower hand to either show when considering the importance of their contribution to music. They were both necessary. And in their later years, they recognized this, bouncing off each other culturally. Dick Clark and Don Cornelius even collaborated on some projects in their later careers.
So 2012 will definitely stand as the end of an era. We just don't have anything to replace American Bandstand or Soul Train - MTV killed them years ago, but has itself gotten so far away from music that it makes a mockery of its own name. We have VH1 and BET, but both of them have become pale shadows of their predecessors, replaying the same oldies' top-40s playlist that becomes less relevant with every year. We might as well face it - television is no longer the life blood of the music industry. It's the Internet now, a wild frontier whose diversity is the barrier that keeps the centralized music media show from ever forming again.